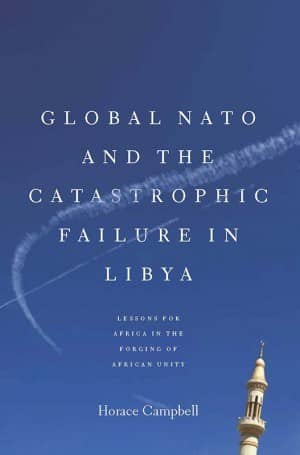 Paperback, 320 pages
ISBN: 978-1-58367-412-3
Cloth ISBN: 978-1-58367-413-0
Releasedate: May 2013
Also available as an e-book
In this incisive account, scholar Horace Campbell investigates the political and economic crises of the early twenty-first century through the prism of NATO's intervention in Libya. He traces the origins of the conflict, situates it in the broader context of the Arab Spring uprisings, and explains the expanded role of a post-Cold War NATO. This military organization, he argues, is the instrument through which the capitalist class of North America and Europe seeks to impose its political will on the rest of the world, however warped by the increasingly outmoded neoliberal form of capitalism. The intervention in Libya—characterized by bombing campaigns, military information operations, third party countries, and private contractors—exemplifies this new model.
Campbell points out that while political elites in the West were quick to celebrate the intervention in Libya as a success, the NATO campaign caused many civilian deaths and destroyed the nation's infrastructure. Furthermore, the instability it unleashed in the forms of militias and terrorist groups have only begun to be reckoned with, as the United States learned when its embassy was attacked and personnel, including the ambassador, were killed. Campbell's lucid study is essential reading for anyone seeking to understand this complex and weighty course of events.
Horace Campbell interviewed on Democracy Now!
Meticulously researched and documented, Horace Campbell's analysis convincingly connects the dots between NATO's botched criminal operation in Libya, the global capitalist crisis, and the Western project for the recolonization of Africa. An essential handbook for Pan-Africanists and for the international peace and justice movement.
Campbell has produced an authoritative analysis of NATO's intervention in Libya. It's original and prescient—one that all concerned scholars and students should read to comprehend this new trend in global militarism.
This is a splendid narrative of the vicious NATO assault on the Libyan people told from a Pan-African standpoint. Libya was a dress rehearsal for the militarized, neo-liberal scramble for the resources of Africa under the thinly veiled humanitarian doctrine of 'responsibility to protect,' R2P. 'Be vigilant' is the message of Horace Campbell's must-read book.
Horace Campbell,a distinguished scholar, provides us with a different view of the Libya tragedy and describes it as a 'catastrophic failure.' It is a catastrophe for Africans and humankind, a failure for both NATO and the UN. It should be always remembered that 'choosing to protect the nation is an honor and selling it out is the greatest betrayal,' as Campbell writes at the end of the book.