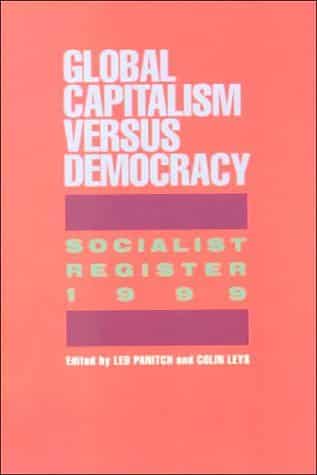 Paperback, 300 pages
ISBN: 0-85345-948-7
Released: November 1998
OUT OF PRINT
There is no MR Associate Discount on Socialist Register titles.
"Globalization" has come to define our age. Stock market fluctuations, the fortunes of political administrations, and conditions for working people—all rise and fall with the tide of global capital flow.
While recognizing that globalization must be taken seriously, the essays in this collection set out to challenge ideas that only serve to mystify globalization, notably the perception that the state is now irrelevant.
A number of country and area studies examine the effects of increasing global pressures on particular economies, from Germany to Cuba, and from Latin America to East Asia. Other essays take up the consequences of globalization in particular spheres: international money, the media, and workplaces. And theoretical contributions discuss democracy, government, and economics in an epoch of global capital Global Capitalism Versus Democracy will appeal to readers seeking a nuanced assessment of the world economy and geopolitics.
The Socialist Register has been the intellectual lodestar for the international left since 1965.
Contents
Preface
HUGO RADICE Taking Globalization Seriously
URSULA HUWS Material World: The Myth of the Weightless Economy
CONSTANTINE TSOUKALAS Globalization and the Executive Committee: The Contemporary Capitalist State
DAVID COATES Labor Power and International Competitiveness: A Critique of Ruling Orthodoxies
BIRGIT MAHNKOPF Between the Devil and the Deep Blue Sea: The German Model Under the Pressure of Globalization
MITCHELL BERNARD East Asia's Tumbling Dominoes: Financial Crisis and The Myth of the Regional Model
ATILIO BORON State Decay and Democratic Decadence in Latin America
HAROLDO DILLA Comrades and Investors: The Uncertain Transition in Cuba
ADAM TICKELL Unstable Futures: Controlling and Creating Risks in International Money
JOACHIM HIRSCH Globalization, Class and the Question of Democracy
BORIS KAGARLITSKY The Challenge for the Left: Reclaiming the State
COLIN LEYS Democracy, Market Supremacy and the Media
SHEILA ROWBOTHAM The Tale that Never Ends