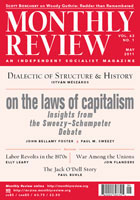 May 2011 (Volume 63, Number 1)
» Notes from the Editors
On March 15, 2011, we received the following letter from Robert W. McChesney, former coeditor of MR and Gutgsell Endowed Professor of Communication at the University of Illinois at Urbana. Bob lives in Madison, Wisconsin, which in February and March, was the site of an intense class conflict over public-sector workers' rights to organize. We are reprinting his letter in full here, as we think it will be of interest to all MR readers.… | more |
In February 2011, while I was drafting what was to become "Monopoly and Competition in Twenty-First Century Capitalism," written with Robert W. McChesney and R. Jamil Jonna (Monthly Review, April 2011), I decided to take a look at Paul Sweezy's copy of the original 1942 edition of Joseph Schumpeter's Capitalism, Socialism, and Democracy, which I had in my possession. In doing so, I came across a folded, two-page document, "The Laws of Capitalism," tucked into the pages. It was written in ink in Sweezy's very compact handwriting. In the upper-right-hand corner, Sweezy had jotted (clearly much later) in pencil: "(A debate with J.A.S. before the Harvard Graduate Students' Economics Club, Littauer Center, probably 1946 or 1947.)" The document consisted of a detailed outline, in full sentences, of a contribution to a debate. I immediately realized that this was Sweezy's opening talk in the now legendary Sweezy-Schumpeter debate. Until that moment, I, along with everybody else, assumed that no detailed records of the actual talks had survived.… | more |
The Dialectic of Structure and History: An Introduction
The investigation of the dialectical relationship between structure and history is essential for a proper understanding of the nature and the defining characteristics of any social formation in which sustainable solutions are being sought to the encountered problems. This is particularly important in the case of capital's social formation, with its inexorable tendency toward an all-embracing, structurally embedded determination of all aspects of societal reproduction and the—feasible for the first time ever—global domination implicit in that form of development. It is therefore by no means accidental that, in the interest of the required structural change, Marx had to focus critical attention on the concept of social structure, in the historical period of crises and revolutionary explosions of the 1840s when he articulated his own—radically new—conception of history.… | more |
Labor's Love Lost: War Among the Unions
Steve Early, Labor's Civil Wars (Chicago: Haymarket Books, 2011), 440 pages, $17.00, paperback.
Leadership driven union density or membership driven mobilization? Labor activist and writer Steve Early chronicles the divisions that opened up in a labor movement desperate to curb decline during the first decade of the 21st century. Divisions that led to a split in the AFL-CIO and in the largest US union, SEIU. Early's detailed knowledge of the issues and players makes for a fascinating trip through labor politics, largely ignored in the mainstream media.… | more |
Aaron Brenner, Robert Brenner, and Cal Winslow, editors, Rebel Rank and File: Labor Militancy and the Revolt from Below During the Long Seventies (New York: Verso, 2010), 472 pages, $29.95, paperback.
Rebel Rank and File is a collection of articles that surveys the building, heydey, and decline of rank and file workers' movement in the fields, mines, auto plants, schools, trucking and phone companies in the late 1960s through the 1970s. What makes this book so valuable is that the first half is devoted to detailing the context of these struggles—the political economy in which they were set. It begs the reader to look deeper into the basis of the book—bureaucratized unions, with leaders hell bent on maintaining power no matter the cost, who serve as buck privates in the Democratic Party army, and who need a compliant base every bit as much as the employers. The authors develop a number of interconnected themes: the single minded union strategy based on endless capitalist growth, parochialism, the private welfare state, pragmatism, anti-communism, influence of anti-war, black power and women's movements—all of which then help the reader to see similarities of the different rank and file experiences, no matter the work or union.… | more |
Nikhil Pal Singh, editor, Climbin' Jacob's Ladder: The Freedom Movement Writings of Jack O'Dell (Berkeley: University of California Press, 2010), 298 pages, $34.95, hardcover.
The story Jack O'Dell is one of the least understood but most important stories in the last half-century of the American Left; important because O'Dell, in his organizing and his writing for Freedomways magazine, contributed in crucial ways to the struggle against racism. But also little understood because the taboo on American Communism and Communists has prevented individual stories from the surrounding milieux to be appreciated and understood. This review-essay brings O'Dell back to light.… | more |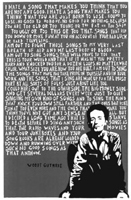 Woody Guthrie: Redder than Remembered
Will Kaufman, Woody Guthrie, American Radical (Chicago: University of Illinois Press, 2011) 264 pages, $29.95, hardcover.
Will Kaufman's new book, Woody Guthrie, American Radical, describes how Guthrie's life-long radicalism shaped his music and evolved over time—from the Great Depression to the Second World War, from the Popular Front to the McCarthyite witch hunts, and into the folk music revival of the 1960s. Kaufman argues that Guthrie's work must be understood in the context of its time, but also in light of Guthrie's commitment to socialist politics and his unrelenting opposition to capitalism and fascism.… | more |