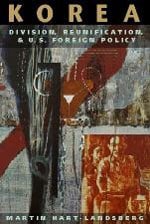 Paperback, 266 pages
ISBN: 0-85345-927-4
Released: January 1998
This historical work, released on the eve of the fiftieth anniversary of the Korean War, overturns the conventional wisdom on Korea.
Official U.S. history portrays the Korean War as a notable example of America's selfless commitment to democracy. According to Cold War history, South Korea emerged from the conflict to create a prosperous and dynamic economy, while U.S. troops served as the nation's peacekeepers. This book, in a wide canvass of the historical background, contests those claims.
By careful scrutiny of U.S. policy in Asia and the history of Korean struggles for independence, Hart-Landsberg identifies the true motivations and origins of U.S. aims in Korea, showing how U.S. foreign policy opposed popular movements in the South and actually sought the division of the peninsula. That policy set in motion separate political processes in North and South Korea that resulted in a cultural tragedy for the Korean people and turned the Korean peninsula into a potentially explosive trouble spot.
Hart-Landsberg foresees opportunities for creating a different atmosphere, one capable of ending the long era of separation and hostility imposed by the Cold War.
Korean unification is one of the most important issues on the international agenda today. Hart-Landsberg's broad-ranging inquiry develops a perspective that is rarely heard and that merits careful attention. It is a valuable contribution to a debate that should not be delayed.
This challenging and provocative work reveals the significant dark side of U.S. foreign policy toward Korea.
[Korea] successsfully addresses the related realities of Korean and American foreign policy. It is especially important for its account of the early striving for unification. Carefully researched, comprehensive, and well-written, it should be able to dispel some of the lamentable ignorance that blinds Americans to all that is important and attractive on the Korean peninsula
Contents
Acknowledgments
Introduction
Part I. Empire and Resistance
1. The United States and Korea
Bridging the Pacific: Historical Origins of Empire
The Japanese Challenge to U.S. Interests
U.S. Hegemony and Korea
2. The Korean Struggle for Independence and Democracy
Foreign Intervention and the Decline of the Choson Dynasty
Korea Under Japanese Rule
Korean Resistance
The Rise of the Left
Liberation
Part II. Division and War
3. From Occupation to Division
The South Under U.S. Occupation
The North Under Soviet Occupation
U.S.-Soviet Negotiations and the Division of Korea
The Road to Civil War
4. U.S. Foreign Policy and Korea, 1945-1950
Confining Soviet Influence
Constructing the Global Capitalist Economy
Restructuring Germany
Restructuring Japan
5. The Korean War
The Beginning of the War
Establishing Responsibility
The Nature of the War: Phase I
The Nature of the War: Phase II
The Nature of the War: Phase III
The Geneva Conference
Part III. From Division to Reunification
6. Divided Korea: The North Korean Experience
Kim Il Sung and the Evolution of North Korean Socialism
The North Korean Economic Miracle
The End of the Economic Miracle
U.S. Policy Toward North Korea
The Distorted Nature of North Korean Socialism
7. Divided Korea: The South Korean Experience
The Road to Military Dictatorship
Military Dictatorship and the Economic Miracle
Growth and Its Contradictions, 1961-1979
The Restoration of the South Korean Growth Model
Growth and Its Contradictions, 1980-1992
The Resurgence of the Left
South Korea at the Crossroads
8. The Challenge and Promise of Reunification
The German Reunification Experience
The Economic and Social Costs of German Absorption
The Evolution of South Korean Reunification Policy
Pursuing Reunification by Absorption
South Korean Economic Policy Toward the North
South Korean Policy Toward Japanese-North Korean Relations
South Korean Policy Toward U.S.-North Korean Relations
An Alternative Approach to Reunification
Notes
Index