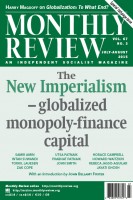 July-August 2015 (Volume 67, Number 3)
May's Review of the Month, "Honor the Vietnamese, Not Those Who Killed Them" by MR Associate Editor Michael D. Yates, has elicited many responses. One writer said that Yates had written the best, but perhaps the first, Marxist analysis of the war. Another praised Monthly Review for having the courage to publish this article. Still a third predicted that in the more distant future, humanity would embrace the essay's judgment and honor the Vietnamese people for their heroic struggle against the overwhelming might of the U.S. military.… In light of these comments, as well as the subject matter of this double issue of Monthly Review on imperialism, we thought it might be worthwhile to say something more about what the Vietnamese themselves naturally enough call the American War, with an eye toward drawing important lessons useful for contemporary radicals.… | more |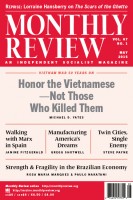 May 2015 (Volume 67, Number 1)
As we write these notes in March 2015, the Pentagon's official Vietnam War Commemoration, conducted in cooperation with the U.S. media, is highlighting the fiftieth anniversary of the beginning of the U.S. ground war in Vietnam, marked by the arrival of two Marine battalions in De Nang on March 8, 1965. This date, however, was far from constituting the beginning of the war. The first American to die of military causes in Vietnam, killed in 1945, was a member of the Office of Strategic Services (a precursor of the CIA). U.S. intelligence officers were there in support of the French war to recolonize Vietnam, following the end of the Japanese occupation in the Second World War and Vietnam's declaration of national independence as the Democratic Republic of Vietnam. The French recolonization effort is sometimes called the First Indochina War in order to distinguish it from the Second Indochina War, initiated by the United States. In reality, it was all one war against the Viet Minh (Vietnamese Independence League). By the time that the Vietnamese defeated the French at Dien Bien Phu in 1954, the United States was paying for 80–90 percent of the cost of the war.… | more |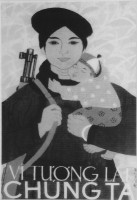 Honor the Vietnamese, Not Those Who Killed Them
In a letter to Vietnam War veteran Charles McDuff, Major General Franklin Davis, Jr. said, "The United States Army has never condoned wanton killing or disregard for human life." McDuff had written a letter to President Richard Nixon in January 1971, telling him that he had witnessed U.S. soldiers abusing and killing Vietnamese civilians and informing him that many My Lais had taken place during the war. He pleaded with Nixon to bring the killing to an end. The White House sent the letter to the general, and this was his reply.… McDuff's letter and Davis's response are quoted in Nick Turse's Kill Anything That Moves: The Real American War in Vietnam, the most recent book to demonstrate beyond doubt that the general's words were a lie.… In what follows, I use Turse's work, along with several other books, articles, and films, as scaffolds from which to construct an analysis of how the war was conducted, what its consequences have been for the Vietnamese, how the nature of the war generated ferocious opposition to it (not least by a brave core of U.S. soldiers), how the war's history has been whitewashed, and why it is important to both know what happened in Vietnam and why we should not forget it.… | more |
Recovering Histories of Internationalism
Judy Tzu-Chun Wu, Radicals on the Road: Internationalism, Orientalism, and Feminism during the Vietnam Era (Ithaca: Cornell University Press, 2013), 346 pages, $26.95, paperback.
The cover of Judy Tzu-Chun Wu's Radicals on the Road features a sepia-toned photograph of Eldridge Cleaver raising his fist in a Black Power salute behind three Vietnamese women in combat helmets, one of whom is kneeling behind an anti-aircraft gun. While you have probably seen a similar photograph of Jane Fonda from her North Vietnam trip in 1972, images like that of Cleaver are less common, if circulated at all. In this second book by Wu, she documents three sets of journeys, like Cleaver's, that have remained at the margins of both the scholarship and the popular memory of the antiwar movement.… | more |
The United States Has Lost the War
An Interview
The death of Vo Nguyen Giap on October 4, 2013, in his 103rd year, was noted with respect everywhere in the world. General Giap commanded the military forces that freed Vietnam from French colonialism in the 1946–1954 war that ended with the victory at Dien Bien Phu (1954), and that then defeated U.S. imperialist aggression in the 1962–1975 war that ended with liberation of Saigon. The heroic and victorious struggle of Communist Vietnam was a major factor in the growth of anti-capitalist and anti-imperialist movements that shook the previously colonized world, Western Europe, and even the United States. … In 1970 Monthly Review Press published
Military Art of People's War: Selected Writings
by General Vo Nguyen Giap, that included a May 1968 interview with General Giap by Madeleine Riffaud, originally published in
l'Humanité
on June 4, 1968. In commemoration of Vo Nguyen Giap we reprint that interview.
—Eds.
BARELY three days ago, a high-ranking leader from the Vietnamese Communist Party visited us. Before leaving, he conveyed to me his wish that I write some recollections of my visit to the territory of Vietnam liberated in its heroic fight against the yankee troops in the south of his country. I do not really have much time available, when a large part of […]… | more |