China's Grain Production: A Decade of Consecutive Growth or Stagnation?
A Decade of Consecutive Growth or Stagnation?
China's official statistics showed that the country's grain production declined from 512 to 431 million tons between 1998 and 2003. However, according to the Chinese government, since 2004 it has achieved "ten years of consecutive growth" in grain production. According to the official statistics, China's grain production reached 602 million tons in 2013, nearly 40 percent above the 2003 level.… While the official statistics claim grain production has grown rapidly, China's surging imports of cereals and soybean suggest that its grain production has struggled to catch up with demand.… This article argues that China's actual grain production levels may be substantially lower than the officially reported levels; in fact, grain production has stagnated since the late 1990s.… | more |
The Labor Share Question in China
In the past two decades, China's economic growth has been increasingly dependent on investment. To maintain the growth of investment, China must sustain a fairly high rate of profit, and the fall in labor's share has been seen as a crucial factor to sustain profitability.… Although the mainstream economists have widely admitted there is a downward trend for labor's share in China, they explain this trend with a story that has nothing to do with class struggle. In this story, the decline of labor's share is caused by sectoral changes, mainly the decrease of agriculture and the increase of industry and services as a percent of GDP in the reform era…. [But] Does the decline of labor's share result from sectoral changes?… [In fact] the decline of labor's share resulted from the loss in the power of the working class during the transition to capitalism. Sectoral changes have disguised the class conflicts in this historical process.… | more |
Twenty-First-Century Land Grabs
Accumulation by Agricultural Dispossession
Land grabs—whether initiated by multinational corporations and private investment firms emanating from the capitalist core, sovereign wealth funds in the Middle East, or state entities such as China and India—are now in the news constantly. For example, in July 2013 the Colombian ambassador to the United States resigned over his participation in a legally questionable effort to help the U.S. corporation Cargill use shell companies to amass 130,000 acres of land. This land was supposed to be used for agricultural production, but there is also land being grabbed for other purposes—such as mining or to construct roads, buildings, and dams. In human terms, land grabs mean real people and families are dispossessed. When people lose access to their land, they also lose their means to obtain food, their communities, and their cultures.… | more |
A Conversation with Cao Zhenglu About His Novel Lessons in Democracy
Cao Zhenglu is a well-known contemporary Chinese realist writer. His stories "Na'er" ("There," about the tragic experience of a union cadre in a state-owned enterprise undergoing "structural reform") and "Nihong" ("Neon," about the life and death of a laid-off woman worker) expose the predicament of Chinese workers in the reform period. His novel
Wen cangmang
(
Asking the Boundless
—an allusion to a line from one of Mao's poems, "I ask, on this boundless land, who rules over man's destiny") has a Taiwanese-owned factory in Shenzhen as the central theater, around which different characters struggle to understand and play their roles in the larger context of "investment." This novel has been celebrated as "the first novel that uses Chinese reality to explain
Das Kapital
." His most recent novel,
Minzhu ke
(
Lessons in Democracy
[Taipei: Taiwan shehui yanjiu zazhishe, 2013]), initiates a further reflection on the Cultural Revolution. Cao's novel re-narrates the Cultural Revolution in terms of its historical unfolding—its aims, processes, contradictions, and significance, and links this story with the contemporary problem of China's path today.
The Political Economy of Decollectivization in China
Decollectivization of China's rural economy in the early 1980s was one of the most significant aspects of the country's transition to a capitalist economy. Deng Xiaoping praised it as an "innovation," and its significance to the overall capitalist-oriented "reform" process surely cannot be overstated. The Chinese government has repeatedly referred to the supposed economic benefits of decollectivization as having "greatly increased the incentives to millions of peasants." Nevertheless, the political-economic implications of decollectivization have always been highly ambiguous, and questionable at best. Individual or small groups of peasants were frequently portrayed in mainstream accounts as political stars for initiating the process, but this served to obscure the deep resistance to decollectivization in many locales. Moreover, the deeper causes and consequences of the agrarian reform are downplayed in most writings, leaving the impression that the rural reform was in the main politically neutral.… | more |
The debates concerning the present and future of China—an "emerging" power—always leave me unconvinced. Some argue that China has chosen, once and for all, the "capitalist road" and intends even to accelerate its integration into contemporary capitalist globalization. They are quite pleased with this and hope only that this "return to normality" (capitalism being the "end of history") is accompanied by development towards Western-style democracy (multiple parties, elections, human rights). They believe—or need to believe—in the possibility that China shall by this means "catch up" in terms of per capita income to the opulent societies of the West, even if gradually, which I do not believe is possible. The Chinese right shares this point of view. Others deplore this in the name of the values of a "betrayed socialism." Some associate themselves with the dominant expressions of the practice of China bashing in the West. Still others—those in power in Beijing—describe the chosen path as "Chinese-style socialism," without being more precise. However, one can discern its characteristics by reading official texts closely, particularly the Five-Year Plans, which are precise and taken quite seriously.… | more |
What Does Ecological Marxism Mean For China?: Questions and Challenges for John Bellamy Foster
Questions and Challenges for John Bellamy Foster
Zhihe Wang's article "Ecological Marxism in China," which appeared in the February 2012 Monthly Review, demonstrated that Chinese interest in ecological Marxism has grown rapidly over the past two decades…. The practical, political, and theoretical reasons for its success include: pressing environmental issues facing China; the government's call for ecological civilization; the many characteristics that ecological Marxism shares with traditional Chinese Marxism; and the support it has provided for China's environmental movement. Numerous works by Western scholars, including Ben Agger, John Bellamy Foster, William Leiss, and James O'Connor, have recently been translated into Chinese. …In comparison [to the others], John Bellamy Foster's ecological Marxism was introduced relatively late. But recently it has drawn the greatest attention from Chinese Marxist scholars…. Our purpose here is to elicit a response from Foster on some of these developments in Chinese thought.… | more |
Toward a Global Dialogue on Ecology and Marxism: A Brief Response to Chinese Scholars
A Brief Response to Chinese Scholars
I would like to thank Zhihe Wang, Meijun Fan, Hui Dong, Dezhong Sun, and Lichun Li for doing so much to promote a global dialogue on ecological Marxism by summarizing some of the insights and concerns of Chinese scholars in this area, focusing in this case on my work in particular. The various questions, challenges, and critiques raised in relation to my work and that of related scholars are all, I believe, of great importance to the development of theory and practice in this area. I am therefore providing a brief set of responses to the problems raised, which I hope will be helpful in the further promotion of this global dialogue on ecology and Marxism.… | more |
The Struggle for Socialism in China: The Bo Xilai Saga and Beyond
The Bo Xilai Saga and Beyond
From Tahrir Square to Wall Street, from Athens to Montreal, dreams of emancipation are mobilizing a new wave of revolts all over the world. Simultaneously the forces of repression are being unleashed everywhere to impose "new mechanisms of social control" with the aim of establishing "new conditions for achieving surplus value" in the aftermath of a protracted capitalist economic crisis.1 Some anticipated a Chinese popular uprising following the Arab Spring. Instead, since spring 2012 the world has seen a sensational drama of elite struggle surrounding the ousting of the Chongqing head of the Chinese Communist Party (CCP) and Politburo member Bo Xilai, including a crackdown on his Chongqing Model of development. Even though the CCP has been able to contain large-scale social unrest, divisions amongst the elite became a focal point of political struggle during this dangerous year of power transition in China. [T] … | more |
The Brutal and Turbulent North
I was reading abundant materials and books to make good my promise of continuing writing on the Reflection of April 14 about the Battle of Girón when I had a look at the recent news that came yesterday, which were also as abundant as they are everyday. You could pile up mountains of news on […]… | more |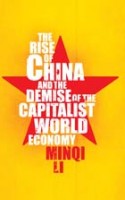 The Rise of China and the Demise of the Capitalist World Economy
In recent years, China has become a major actor in the global economy, making a remarkable switch from a planned and egalitarian socialism to a simultaneously wide-open and tightly controlled market economy. Against the establishment wisdom, Minqi Li argues in this provocative and startling book that far from strengthening capitalism, China's full integration into the world capitalist system will, in fact and in the not too distant future, bring about its demise.… | more |
When World War I broke out in 1914, China joined the allies. As recompense, China was promised that the German concessions in the province of Shandong would be returned to them at the end of the war. After the Treaty of Versailles, which President Woodrow Wilson imposed on friends and foes alike, the German colonies were transferred to Japan, a more powerful ally than China.… | more |
Without some basic historical knowledge, the subject I am dealing with could not be understood.… | more |
In Europe, people had heard about China. In the autumn of 1298, Marco Polo told marvelous tales about an amazing country he called Cathay. Columbus, an intelligent and intrepid sailor, was aware of the Greeks' knowledge about the roundness of the Earth. His own observations led him to agree with those theories. He came up with the plan of reaching the Far East sailing westward from Europe. But…… | more |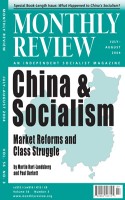 July-August 2004 (Volume 55, Number 3)
We regret to announce the death of William Hinton, one of the greatest fighters for Chinese socialism (and socialism in general) in the 20th century, and a beloved member of the MR family. This fall we will publish one of his last public lectures on the role of Mao Zedong. What follows is a tribute written by Monthly Review Foundation board director, John Mage, posted earlier on the MR Web site