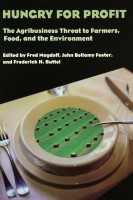 The Agribusiness Threat to Farmers, Food, and the Environment
The agribusiness/food sector is the second most profitable industry in the United States — following pharmaceuticals — with annual sales over $400 billion. Contributing to its profitability are the breathtaking strides in biotechnology coupled with the growing concentration of ownership and control by food's largest corporations. Everything, from decisions on which foods are produced, to how they are processed, distributed, and marketed is, remarkably, dictated by a select few giants wielding enormous power. More and more farmers are forced to adopt new technologies and strategies with consequences potentially harmful to the environment, our health, and the quality of our lives. The role played by trade institutions like the World Trade Organization, serves only to make matters worse. … | more |
Seeing the Forest and the Trees: The Politics of Rachel Carson
Lost Woods: The Discovered Writing of Rachel Carson, edited and with an introduction by Linda Lear (Boston: Beacon Press, 1999), 288 pp., $16, paperback.
Lost Woods brings Rachel Carson back into the public realm. This collection of her writings, selected by her biographer, Linda Lear, reminds us yet again of the extraordinary range of her talents and the equally extraordinary use to which she put them. The book offers, in one modest volume, a taste of all the pleasures to be found in Carson's longer works. Through a careful choice of speeches, articles, field notes, and letters, presented in chronological order, Lear allows us to witness, in Carson's own words, her transformation from a natural scientist to a political advocate for the environment … | more |
Eileen Welsome, The Plutonium Files (New York: Dial Press, 1999), 564 pp., $26.95.
It is fitting that the "Atomic Century" draw to a close with the publication of The Plutonium Files. A decade in the making, Eileen Welsome's book explores the secret human radiation experiments that grew out of the U. S. atom bomb program. Carried out under the auspices of the Atomic Energy Commission (AEC), the Department of Energy's predecessor, the experiments were designed to help determine atom bomb plant safety standards and to replicate nuclear battlefield conditions. As a result, thousands of hospital patients and servicemen were unknowingly exposed to dangerous levels of radiation … | more |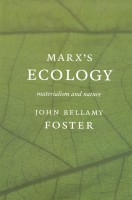 Materialism and Nature
Progress requires the conquest of nature. Or does it? This new account overturns conventional interpretations of Marx and in the process outlines a more rational approach to the current environmental crisis. … | more |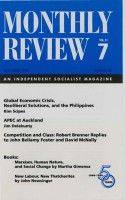 December 1999 (Volume 51, Number 7)
Recently, we were talking about the environment to a well-known sociologist and got into a fairly heated debate about the ecological effects of capitalism. He insisted that capitalism has nothing to do with it. All human practices, he said, inevitably affect the natural environment and have done so since the dawn of history. This seemed to us a pretty simplistic and ahistorical argument … | more |
James O'Connor, Natural Causes: Essays in Ecological Marxism (New York: Guilford, 1998), 350 pp., $19.95, paper.
One of the foremost Marxist social scientists in the United States, James O'Connor has produced many original insights into the political economy of the United States, and global capitalism. His Fiscal Crisis of the State (1973) revealed the structural roots of government deficit problems, and his subsequent work has focused on the development of a general theory of capitalist crisis. In Accumulation Crisis (1984) and The Meaning of Crisis (1987), he surveyed and synthesized alternative viewpoints on the economic, political, cultural and psychological crisis tendencies of late-twentieth century capitalism. Since 1988, when he co-founded the innovative "eco-Marxist" quarterly Capitalism, Nature, Socialism, O'Connor has expanded his vision of capitalist crisis and socialist movements to incorporate natural conditions more fully. Natural Causes gathers together O'Connor's major writings over this last period, providing an excellent opportunity to assess his considerable contribution to eco-Marxist theory and practice … | more |
Introduction to Hungry for Profit
The conventional view that agriculture was displaced by industry in two stages—by the industrial revolution in the late nineteenth century, and as a result of the rise of the agribusiness system in the mid-twentieth century—has left many observers of the contemporary political economy with the impression that to deal with agriculture is essentially to focus on political-economic history rather than contemporary political economy. Nothing could be further from the truth. The purpose of this special issue of MR is to help compensate for the neglect that agriculture has often suffered in political-economic literature of the late twentieth century. In so doing we will continue with a line of argument that was introduced in MR more than a decade ago in the July-August 1986 special issue Science, Technology, and Capitalism, edited by Steffie Woolhandler and David Himmelstein, which included landmark essays on U.S. agriculture and agricultural research by Richard Lewontin and Jean-Pierre Berlan … | more |
John Gillot and Manjit Kumar, Science and the Retreat from Reason (Monthly Review Press, 1997), 288 pp., $18.
We live in a skeptical age. All of the basic concepts of the Enlightenment, including progress, science and reason are now under attack. At the center of this skepticism lie persistent doubts about science itself, emanating both from within and from without the scientific community. Recent titles by scientists give an idea of the extent of the crisis in confidence within science: Science: The End of the Frontier? (1991) by Nobel prize winner Leon Lederman; The End of Certainty (1996) by Nobel laureate Ilya Prigogine; and The End of Science (1996) by Scientific American writer John Horgan … | more |
The Scale of Our Ecological Crisis
One of the problems that has most troubled analysts of global ecological crisis is the question of scale. How momentous is the ecological crisis? Is the survival of the human species in question? What about life in general? Are the basic biogeochemical cycles of the planet vulnerable? Although few now deny that there is such a thing as an environmental crisis, or that it is in some sense global in character, some rational scientists insist that it is wrong to say that life itself, much less the planet, is seriously threatened. Even the mass extinction of species, it is pointed out, has previously occurred in evolutionary history. Critics of environmentalism (often themselves claiming to be environmentalists) have frequently used these rational reservations on the part of scientists to brand the environmental movement as "apocalyptic." … | more |
Marxism, Metaphors, and Ecological Politics
It has, unfortunately, taken far too long for Marxists to take environmental issues seriously. There are some good reasons for this, including the undoubtedly "bourgeois" flavor of many of the issues politicized under that heading (such as "quality of life" for the relatively affluent, romanticism of nature, and sentimentality about animals) and the middle class domination of environmental movements. Against this, it must also be recognised that communist/socialist government have often ignored environmental issues to their own detriment (the pollution of Lake Baikal, the destruction of the Aral Sea, deforestation in China, being environmental disasters commensurate with many of those attributable to capitalism). Environmental issues must be taken seriously. The only interesting question is how to do it … | more |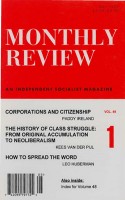 May 1997 (Volume 49, Number 1)
In this space in last summer's double issue of MR, we directed attention to the work of a worldwatch Institute in Washington, D.C., especially its annual State of the World, the first issue of which was published in 1984. The latest (1997) of these reports came out in February. By now this series is being translated into all the world's major languages and constitutes what is probably the most comprehensive and available source of information on the global environment.… | more |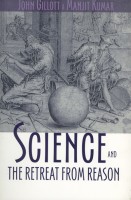 Science and the Retreat from Reason
Science fascinates us, with popularizations of it regularly heading the bestseller lists, and more people feeling comfortable with the technological applications of science which surround us. Why is it then that in the late twentieth century, "back to nature" has replaced "progress through science" in the popular imagination?… | more |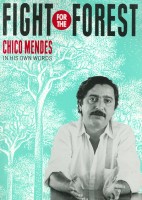 Chico Mendes in His Own Words
Chico Mendes, the charismatic founder of the Brazilian rubber tappers union, was murdered by a hired assassin on 22 December 1988. As a trade union leader, he won international acclaim for his role in the non-violent campaign to protect the Amazon rainforest, on which the rubber tappers depend for their livelihood.… | more |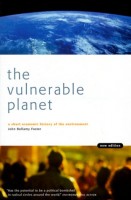 A Short Economic History of the Environment
In this clearly written and accessible book, John Bellamy Foster grounds his discussion of the global environmental crisis in the inherently destructive nature of our world economic system. Rejecting both individualistic solutions and policies that tinker at the margins, Foster calls for a fundamental reorganization of production on a social basis so as to make possible a sustainable and ecological economy.… | more |